267RLi Remote Alarm Immobiliser
This is a stand alone remote activated alarm and immobiliser system with perimeter and interior protection by means of either an ultrasonic, shock, microwave or glass break sensor. This system has built in anti-hijack functionality.
This alarm system protects the perimeter of the vehicle in that if any of the doors, boot, bonnet etc are opened a siren will sound. The 276RLi can be configured to lock and unlock any vehicle's central locking system but the use of additional modules might be needed.
The 276RLi offers the following :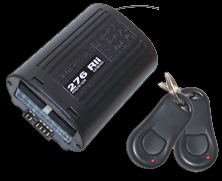 Two onboard relay immobiliser circuits
Timed output to central locking
Various movement or shock sensors to choose from
Selective unlocking
Lock with ignition and memory report back
Multi coloured harness
Two coded remotes
Security housing
Drivers horn speaker
Override by means of a hidden switch
Hot wire detection
Auto arming alarm
Vehicle locator (Park / flashing indicator)
Central locking outputs negative
Window closure facility (Optional)
Temporary sensor isolation facility
False alarm nuisance prevention
Alarm trigger diagnostic
Remote panic alarm facility
Optional selective unlocking output
Selectable lock / unlock with ignition
Horn speaker / new bridge siren (Optional)
Less than 20 mili Amp standby current
Reverse polarity, short circuit and over voltage protection
24 month warranty