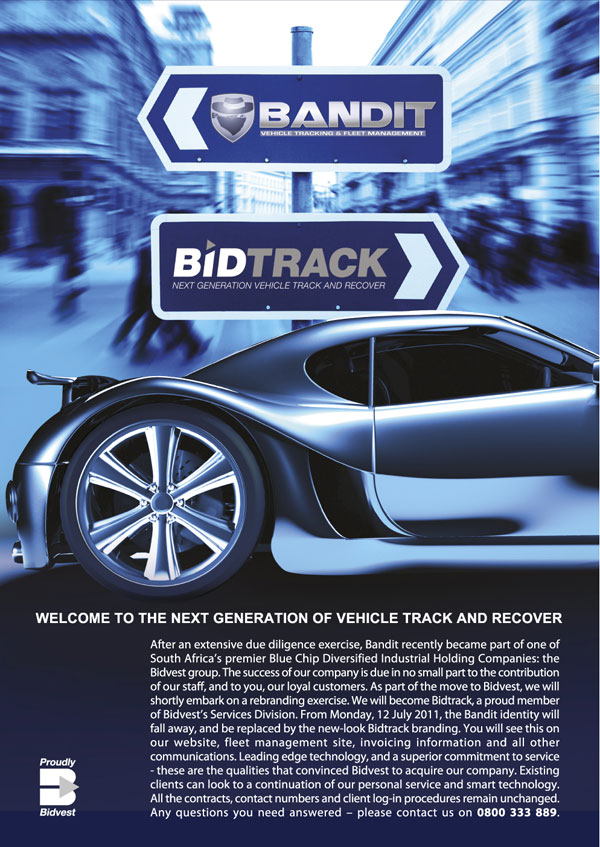 BidTrack is the powerful yet straightforward tool specifically tailored to enable fleet owners and managers of companies within the BidVest group to gain optimum benefit from their vehicles. BidTrack achieves its targets by helping to maximise fleet performance and minimise operating expenditure.
This is attained by focusing on three primary areas – Driver Productivity, Vehicle Running Costs and Vehicle Utilisation. The technology was researched and developed in South Africa: it boasts a proven track record dating back more than a decade, as well as export status which sees it licensed for use across Europe and in Africa's largest, most populous countries.
BidTrack is manufactured locally under stringent ISO criteria. The system includes proprietary Stolen Vehicle Tracking and Recovery features: while these include a unique Position Lock facility and various probable-theft-in-progress alerts, BidTrack users are urged to assist by reporting emergencies via the 24-hour hotline 086 1234 911
Since March 2008 Bandit had a joint venture with Bidvest called Bidtrack and in November 2009 joined forces on a permanent basis when Bandit became a permanent subsidiary of the greater Bidvest Group.
Vehicle Tracking
When You REALLY Want Your Car Back.
Research shows that you may prefer an Insurance Pay-Out to having your stolen vehicle returned. But will that be quite as appealing once the Basic Excess has been deducted? Bidtrack systems are more than just bargaining tools for negotiating with Insurers, and with Bidtrack's Peace-of-Mind Value-Added Features, gone are the days of tracking systems being seen as a 'grudge purchase'.
Fleet Management
Prices are fully-inclusive of upfront software and ALL ongoing system communications costs – Bidtrack also guarantees NO annual enhancement fee!30% Productivity Gains – 25% Vehicle
Running Cost Reductions
Integrated Tracking & Recovery
Powerful bargaining tool for negotiating Insurance Premiums/ Excesses
Peace of mind for the Self-Insured Sector
The Bidtrack Edge
Efficiency Statistics revealed via Case Studies
Trip Optimising & Spares Expenditure containment
Insurance Claims reduced via more responsible driving
Internet-based for 'anytime-anywhere' access
Combination of GPS and GSM
From securely-housed Data Servers to thoroughly fire-walled Website, Risk-Free is the Bidtrack Manifesto